Sugars Story about K9 CPR
A Tribute to Sugar the Boxer.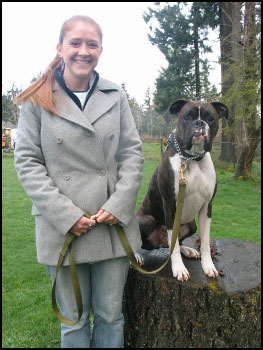 Sept 25, 2006 to March 14, 2011
The dog that woke up the world and inspired many to learn K9 CPR
DOG THAT GAINED FAME AFTER CPR VIDEO HAS DIED
posted by Sara Schilling on March 16, 2011 at 1:15pm
The News Tribune
The 4-year-old boxer named Sugar who gained Internet fame after he was revived by a Tacoma-area dog trainer – and the whole thing was caught on video – has died.
Sugar had a heart problem and apparently collapsed again Monday.
"CPR didn't work this time," said his owner, Tiffany Kauth of Bremerton, in a message confirming his death.
She said she was too upset to talk further.
Sugar first collapsed during an obedience class March 5 at Canyon Crest K9 Training Center in the Summit/Waller Road area. The center's owner, Ron Pace, a well-known dog trainer, used CPR to get him breathing again.
The incident was captured in a seven-minute, 52-second video that was widely circulated on the Internet.
Sugar was rushed to the veterinarian and began treatment for a previously undetected heart problem.
Pace, who spoke with Kauth after learning the news, said she was devoted to her dog.
It was 10 days from his collapse in class to his death, and "she said she treated him like a king and had a lot of fun with him the last 10 days," Pace said. "She was happy to be able to get those 10 days."
But "I wish she would have had many more years," he said. "That's what I was hoping."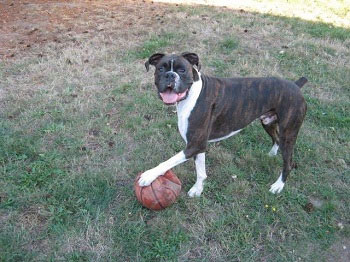 It is with great sadness that we notify all of our friends of the untimely death of Tiffany's boxer dog, Sugar. Some of you have already heard this news by now. Those of you who have followed the dramatic story of Sugar's collapse and resuscitation on our training field a week ago last Saturday are already aware of the possible cardiomyopathy heart condition that Sugar had. Tiffany followed up with full vet evaluations and treatment for this condition and was following a strict regimen of care. Tiffany, being the exceptionally dedicated and responsible pet owner that she is, committed to the additional expense, time, and training to learn correct K-9 CPR.
On Monday, March 14th, Sugar collapsed again and stopped breathing. Tiffany jumped into action and performed CPR on Sugar correctly and competently, just as she had been instructed. She continued performing the technique with the determination and hope that we would all bring in an effort to resuscitate a loved one. Tragically, her best efforts failed to revive Sugar.
Only those among us who have shared the deepest and most inexplicable relationship with our canine companions can begin to comprehend the depth of this loss to Tiffany.
There is, in those rare cases, a bond created between dog and handler that transcends the natural boundaries separating the human and animal realms. By virtue of her deep commitment to the nurturing, training and care of Sugar, Tiffany had developed just such a relationship. Such an experience in this life is a rare blessing, reserved for just a fortunate few.
Unfortunately, the breaking of that unique bond brings with it an extra measure of grief and heartfelt loss. This is especially true when one's very best efforts to save their partner have failed to succeed.
Giving a large measure of one's heart to another assumes the risk of losing that larger measure, yet in such deep loss the heart gains and grows larger still when the hidden blessings of that life lived become evident as time passes. In Sugar's case his life and death now stand as a beacon of light motivating others to demonstrate the same love and dedication for their canine partners that Tiffany did. Sugar's message to all pet owners is a simple one. Commit yourself to their nurture and training. Care for them with consistency and love. Learn canine first aid and CPR.
Tiffany, although we cannot fully comprehend the grief load that you bear, know that our prayers and hope for peace in your heart are being lifted to God. We applaud the bravery that you proved in giving your heart to Sugar and stand dedicated to developing that same selfless courage in our own lives. Thank you for the gift you have given to all of us in sharing these real life lessons with us.
Your friend,
Ron Pace
And the Entire K-9 Community
Contact Information
ADDRESS
4515 Vickery Ave. E.
Tacoma, WA 98443
Sign Up For Training Today!
Contact us if you have any questions or
want to sign up for our Award Winning Dog Training.