Controlled Personal Protection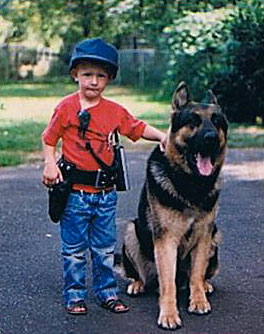 In the personal protection field, Ron's abilities are also widely respected. His work with numerous federal, state, county and city law enforcement K-9 units and hundreds of individuals who have completed personal protection courses have established him as a leader in the field. Ron believes if you have a dog that already possesses the desire to protect, it is important in this day and age for the owner to learn how to control that aggression. By teaching you and your dog how and when to use these tendencies, you can turn a potential liability into a well-trained, highly controlled asset for the protection of your home, family and self. Protection training is one of the most demanding and difficult dog training tasks that there is. This training is truly an art and it is very important to be done properly.
Some say that you do not need to teach a dog how to protect and still others think that protection training teaches a dog to attack and is very dangerous. Both can be true, there are many exceptions. Some people even after good research in selecting a dog get a dog that is still not the best match for them or their lifestyle. For example, let's say you purchase a German shepherd and as it starts to mature at around one year of age it becomes protective or territorial. Will you be able to stop it when you want? The type of training Ron teaches is just another higher level of obedience. It allows you to take control over the natural instinct to protect. When your dog is with you, on or off leash, your dog will be taught not to go up to anyone on their own without you introducing your dog to that person first. Not only is this just good manners, but it also prevents your dog from making a decision to be or not be aggressive.
When your dog is in a confined area he may protect his area on his own unless you tell him otherwise. Rather than allowing your dog to protect anytime he wants we are teaching your dog to protect when you want. This method is not designed to make your dog mean, quite the opposite. It is designed to teach your dog to not hold a grudge. If someone was hostile towards an untrained naturally protective dog that dog most likely will hold a grudge. He will be keeping an eye on that aggressor. With the training your dog will be taught that it is just a task and to not hold a grudge. Your dog will be taught on your command to hold his ground by barking and growling. On one command he must stop and allow the aggressor to jump, swing, and run at, tease and then be able to be petted without showing any aggression. By learning to read your dog's actions you will be able to intercept and prevent a bite. This training is not for every breed nor is it for every dog owner. We have a lot of success with fear aggressive dogs. The training helps build confidence in the dog and gives the owner control which in return reduces the chance of the dog hurting someone.
This training includes, but is not limited to:
10 Private Lessons
Controlled Personal Protection
Group Class
Protection training may be taught in conjunction with obedience lessons.
HOW DO I GET STARTED? Click here to set up your first appt.
Contact Us
ADDRESS
4515 Vickery Ave. E.
Tacoma, WA 98443
Latest News