Evaluations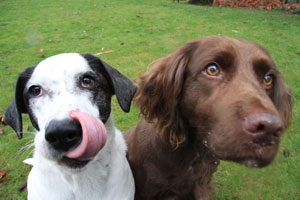 PUPPY AND ADULT DOG EVALUATIONS— Are you thinking of acquiring a new puppy or an adult dog for your family and want to make sure the dog you are considering is safe and a good choice for your lifestyle and environment? Having conducted over thousands of evaluations in the last 30 years, we can help you find the right match for you and your family. A temperament test is similar to a personality test in people. It can tell you what the dog will act like in many situations to high probability. It can tell you if the dog has tendency towards aggression or possessive guarding. It can tell you if the dog is a good choice for a home with children or a home that is planning to have children during the dog's lifetime. With so many dogs adopted and then surrendered because they weren't a good match, many people do benefit from this service.
CONTROLLED PERSONAL PROTECTION EVALUATION—
This is an evaluation done by Ron to see if your dog is a good candidate for our controlled personal protection course.
LAW ENFORCEMENT EVALUATION—
An evaluation done by Ron to see if your dog is a good candidate for Police K-9 work.
EXPERT WITNESS SERVICES (Criminal and Civil Cases)–
Ron Pace has been accepted as an expert witness in trials in the State of Washington.
DISPUTE EVALUATIONS—
Are you involved in a dispute over your dog's behavior with neighbors, landlords or other individuals? Or is an Animal Control Dangerous Dog Investigation being conducted? A temperament assessment and written evaluation by Ron Pace's Canyon Crest K-9 Training Center can be a great asset to you. If your dog is deemed to be dangerous during the testing procedure, you will be informed of the potential risks as well as any proactive steps you can take to improve the situation.
Contact Us
ADDRESS
4515 Vickery Ave. E.
Tacoma, WA 98443
Sign Up For Training Today!
Contact us if you have any questions or
want to sign up for our Award Winning Dog Training.